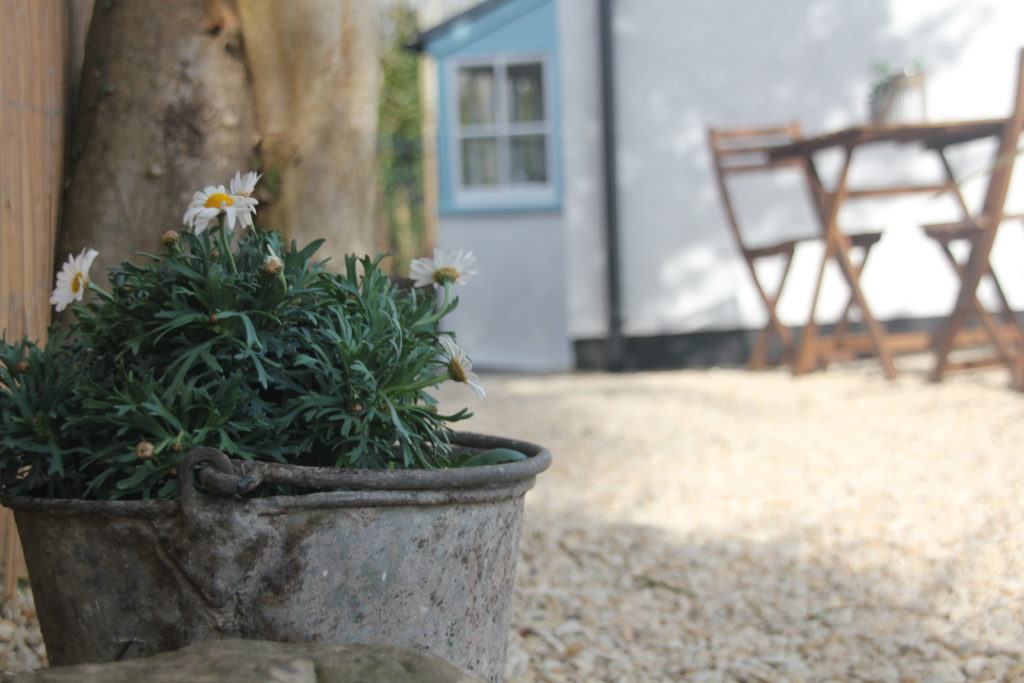 08 Apr

The cottage garden gets a makeover

As it was winter when the holiday cottage opened to guests, all of my energies went on making sure she was beautiful inside, and the garden took a bit of a back seat. But with a bit of sun in the sky (at last!) I realised it was time to bring the garden up to the same standard as inside.

So, a lovely local man has been helping me to turn the garden around. There's a new gravel driveway and parking area in a gorgeous Cotswold stone colour (4 tonnes of it in all!) , which flows into a new seating and BBQ space tucked around the side of the cottage with a more private feel to it. The gravel has been planted up with a phormium (big spiky plant) and then all the old galvanized buckets and troughs that I kept from the old shed have been turned into planters. There's a bistro set of a table and two chairs, and a big kettle BBQ with tools. Solar festoon lights in the holly tree complete the look when the sun goes down, creating the perfect spot for some alfresco dining. Here's a picture from a particularly rainy day to give you an idea of what it looks like…

The gravel continues on the vegetable garden side, with a new rockery and trellis hiding the concrete block blast wall that the LPG tank sits behind. The path leading to the bothy has been picked out with gravel too. The wire fence between the LPG tank and the veggie garden has been planted with sweet peas, which should mingle with the raspberry canes and provide a riot of colour and fabulous scents when they flower. The narrow strip of land next to the bothy at the very bottom of the vegetable garden has been cleared of years of garden waste, and provides somewhere else to explore, with rambling roses, camelias, hops and other climbers will eventually cover the small fence between the vegetable garden and the wood behind the cottage.

The beautiful gravel continues around the base of the summerhouse, tying that area in with the rest of the garden, and providing a visual link from the vegetable garden right through to the other side. The summerhouse now houses a selection of outdoor games for the whole family to enjoy – there's croquet, badminton, inflatable snakes and ladders as well as a football, skipping rope and other bits and pieces. There's even a paddling pool at the back of the summerhouse which guests are more than welcome to fill up during their stay.

It's going to take a little while for everything to grow, and then flower, but I'm definitely a couple of steps closer to my country cottage garden dream! I just hope everyone enjoys using the garden as much as I enjoyed working on it.